COVID-19 UPDATE: From Saturday 17th October, until further notice, Havering is in Tier Two (High) in terms of local restrictions. However, places of worship REMAIN OPEN and – with all our Covid-19 secure measures, to keep everyone safe – our schedule of weekend Masses, and Wednesday lunchtime Mass, continues. Our Livestream also continues for those who are ill, shielding, or unable to get to Mass for any reason.
If you know anyone who is on their own at this time, we have a "phone tree" via the SVP, to ensure parishioners are telephoned regularly, as a way to combat loneliness. If anyone is in any particular need regarding shopping, etc., we can help arrange things for them. Just let us know by phone or email.
______________________________________
You are very warmly welcome here – whether as a new visitor, occasional visitor, or long standing parishioner. We hope you find a wonderful home here, in this parish which has a magnificent primary school, a caring network of friends and support for older generations, and a lovely mix of families, teenagers and people of all ages.
Keeping Christ at the centre of all that we do, we exist to joyfully spread the Good News of Jesus Christ in Romford through our prayer, our charitable action, and our celebration of the Sacraments.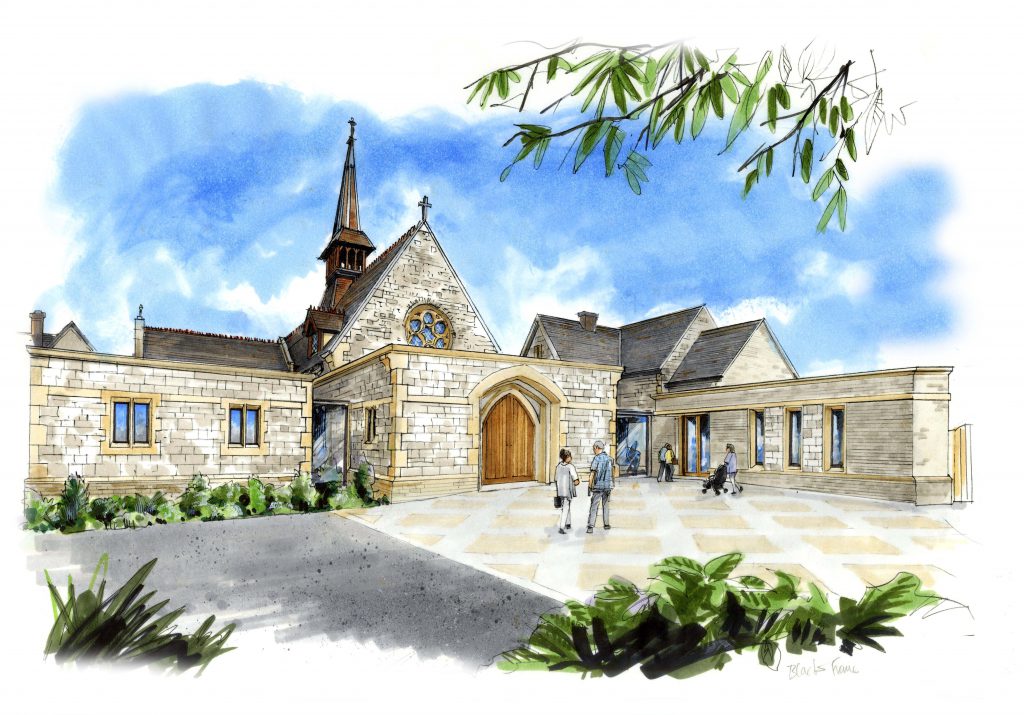 We are in the midst of exciting and detailed planning to improve, refurbish and extend our church and parish centre. This builds on our precious heritage, and provides facilities for the parish and community for many years to come. Full consultation with the parish begins this weekend, 17th/18th October, and all the details – including draft plans, FAQs, and how to give your comments and suggestions – are on the "Parish Plans" section of the website: https://stedwards-romford.org.uk/parishplans/
______________________________________
The latest newsletter is here, It is full of interesting updates – do take time to take a look!
______________________________________
We are running a full schedule of weekend Masses
Saturday evening 6.30pm; Sunday 9.30am and 11.30am.
Mass is also celebrated at 12.15 on Wednesdays.
______________________________________
There are some changes to the arrangements for Mass, due to Covid-19. Before coming to Mass: please make sure you do not have any Covid-19 symptoms (high temperature, persistent cough); please bring a mask/face-covering (unless you are exempt). There are fuller details, including some differences to the celebration of Mass, on a sheet available when you come to church. The maximum numbers are 80, with pews spaced at 1.2m, and it is best to arrive early to help our stewards to make best use of all the available seats.
______________________________________
Sunday 9.30am Mass is Livestreamed on the YouTube channel RomfordRC.
The direct link to the channel, which has every Sunday Mass since 16th August, is https://www.youtube.com/c/romfordrc.
The live Mass is at 9.30am, and you can watch then or at any time after that. If you subscribe to the channel (which is free) you'll get a reminder a few minutes before Mass.
For Livestream Mass this Sunday, 18th October, the 29th Sunday in Ordinary Time, including the launch of the parish building and development plans, the direct link is

: https://www.youtube.com/watch?v=Y2aLl4zvlfM
For Livestream Mass from last Sunday, 11th October, the 28th Sunday in Ordinary Time, including the CAFOD Harvest Fast Day Appeal, the direct link is

: https://www.youtube.com/watch?v=P_ogssNXs5Y
______________________________________
The website is in the midst of many changes; please bear with us as everything is updated during the autumn. For now you will find all the key information here, on the front page of the site. You can also find us on Facebook and Twitter @RomfordRC.
The best way to contact the parish is to email romford@dioceseofbrentwood.org.
In an emergency please email frdominic@dioceseofbrentwood.org or call Fr Dominic at Walsingham House, 01277373959.
________________________________________
On 5th August the former parish priest, Fr Tom Jordan, sadly passed away, and his funeral took place on 19th August
We continue to keep Fr Tom and his family very firmly in our prayers, giving thanks for the 17 years he served here in Romford.
Thank you to all who joined us in prayer, online and in person, to remember our beloved Parish Priest, Fr Tom Jordan, at his Vigil and Funeral on 18th and 19th August. More than 500 people lined Park End Road and Park Drive in a wonderful and moving testament to Fr Tom's 17 years of ministry in Romford. Fr Tom's family, and the whole parish, are uplifted by your prayerful support.
The Livestream Mass remains available: to watch and pray, click on this direct link: https://youtu.be/D_SaXi7tkB8 We are sorry that due to the noise of the organ pipes there is interference on the sound during the Mass.
Fr Dominic has re-recorded the homily, so there is no background noise; today why not take ten minutes in memory of Fr Tom? Listen to the homily, add in your own memories, and pray for Fr Tom and for the whole parish. The direct link to the re-record on YouTube is: https://www.youtube.com/watch?v=IfCtoT9jiKU&t=6s
To begin the grace-filled and memorable procession along Park End Road and Park Drive Bishop Alan and priests of the Diocese sang the Salve Regina, and you can see that here: https://www.youtube.com/watch?v=K21PBSeCbNE
May Fr Tom Rest in Peace and Rise in Glory. Amen.
________________________________________
Contact details:
Postal Address: St Edward the Confessor RC Church, 5 Park End Road, Romford, Essex, RM1 4AT
Tel : 01708 740 308 Email: romford@dioceseofbrentwood.org