We are very sorry to let you know of the death of our beloved Parish Priest, Fr Tom Jordan, who passed away on Wednesday 5th August.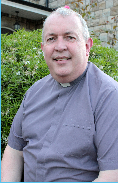 Fr Tom served in the parish from September 2003. He died surrounded by his sisters, in the presbytery that was his home for 17 years.
His funeral will be celebrated by Bishop Alan Williams on Wednesday 19th August at 11am. Attendance will be by invitation only, due to the Covid-19 restrictions, but there will be an opportunity for people to pay their respects on Tuesday 18th August at 6pm – 9pm. On the day of the funeral the cortege will leave church at 12.30pm and parishioners, clergy and friends are invited to line Park End Road to pay their respects.
The funeral Mass will be Livestreamed: to watch and pray, click on this direct link: https://youtu.be/D_SaXi7tkB8
May Fr Tom Rest in Peace and Rise in Glory. Amen.
______________________________________
For Livestream Mass at 10.30am this Sunday, 16th August, the Solemnity of the Assumption of Our Lady into Heaven, the direct link is: https://youtu.be/WnMwNsY5DYA
________________________________________
We are open each week for private prayer on
Wednesday 11am – 2pm, and Saturday 5.00 – 6.30pm.
We are open for Masses on
Saturday 6.30pm and Sunday 10.30am (Sunday Mass also Livestreamed on YouTube).
Numbers are limited to just 65 per Mass, and there are many guidelines about attending Mass safely, including the need to wear face coverings and to complete a Track and Trace form. Please read everything carefully here: Newsletter 9th August 2020 PDF version Newsletter 9th August 2020
There are regular updates on the parish Facebook Page – "Like" us at  https://www.facebook.com/RomfordRC We are also on Twitter – follow us @Romford RC
We have our own YouTube channel, which is being developed during these weeks; the first Mass on the new channel will be this Sunday, 16th August, and the channel link is https://www.youtube.com/channel/UCZtYixH4IRiUIcwjsqMSW7g
At this time it is best to contact the parish by email at romford@dioceseofbrentwood.org and someone will get back to you as soon as possible. In an emergency, please email the Associate Priest, Fr Dominic – frdominic@dioceseofbrentwood.org – or phone him on 01277373959
To register for First Holy Communion 2021 please complete these two forms:
5 Park End Road,
Romford, Essex,
RM1 4AT