Canon Alfred White was born in 1825, the son of a surgeon and a parishioner of Lincoln's Inn Fields. He was educated at Sedley Park, St Edmund's, Ware (1841-52) where he befriended Pugin (who was then designing the College chapel) and with the help of John Virtue, painted the roof of the new chapel. His skills were also used in illuminating an address presented by the College to Queen Victoria at the time of the 'Papal Aggression'. Catholics had long enjoyed toleration in England, their church was governed by vicars apostolic rather than bishops and there was no diocesan or parish organization. But in 1850, partly to better administer to the large number of Catholic Irish flocking into England after the Irish Famine, the Catholic Church re-established its full hierarchy. For the first time since the reign of Mary Tudor (1555-1558), Catholics now had a full hierarchy consistent with that of Catholic countries. Thirteen Sees and the archdiocese of Westminster were established.
Canon White was ordained in 1852 and served at Romford (1852-54), where he took charge of the new mission, whilst still resident at Moorfields. He then served as curate at Brook Green, Hammersmith (1854-59), and Sommers Town (1859-60), before being promoted as Missionary Rector of Homer Row (1860-1883). In 1883 he succeeded Mgr Fenton as Rector of Brook Green (1883-1904), where he decorated the church and his curates included Peter Amigo (who was consecrated a bishop by Cardinal Bourne in 1904). He became a Canon of Westminister and unusually an Alderman of Hammersmith. A portrait of him in his alderman's robes is kept at St Edmund's College, Ware.
He died on 15th April 1904. His Requiem was celebrated at Brook Green in the presence of Bishop Amigo of Southwark. The preacher was Canon Brenan and the burial took place at St Mary's cemetery, Kensal Green.
Fr John Connolly was born on 19th November 1824. He was confirmed in Manchester on Whitsunday 1838. He entered St Edmund's College Ware, on 30th August 1838. He was tonsured (i.e. entered the clerical state) on 21st September 1844 and was ordained to the Priesthood on 2nd June 1849, leaving St Edmund's College, Ware on 11th June 1849. His parish appointments included Moorfields Central London until 1852; Clerkenwell in 1852. He was ordained in 1849 and served in the Diocese of Westminister in the following parishes: Assistant Priest at St Joseph, Bunhill Row 1849-51; Assistant Priest at St Mary, Moorfields 1851-54, Assistant Priest SS Peter and Paul, Clerkenwell 1853-54, Priest-in-charge at Romford 1854-55; Assistant Priest St James Spanish Place 1855-57. In 1857 he beacame a religious order priest when he entered the Redemptorists at Bishop Eton, Liverpool. After his novitiate (1857-1858) he served at Bishop Eton (1858-1867) and St Mary's Kinnoull, Perth (1869-71). He died on 12th August 1871.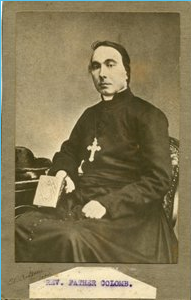 Fr John-Baptiste Colomb was born in Aisne Belley France on the 21st June 1821. He studied philosophy at Belley and was ordained a priest on the 4th July 1847. He was professed to the Marist order on 23rd October 1851 and was in charge of the Romford mission for over fifteen years. He was then posted by the Marists to New Zealand and appointed Parish Priest at Greymouth on the South Island of New Zealand. In a very tragic accident, he drowned whilst crossing the Nelson Creek in Grey River on 27th July 1871. He was on his way to the Half Ounce – a goldfield on the Westland Diggings, to celebrate a wedding and drowned when his horse lost it's footing in the river. Drowning at that time was known as New Zealand's 'National death '. His body was recovered and he was buried in Greymouth Karoro Cemetery