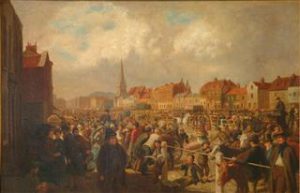 Catholic Church History in Romford (1410 – 1548)
Romford is a market town and the Romford market once depended on the stamina of sheep, but in the 13th century, the distance they could walk in a day was a crucial factor in deciding whether Romford was entitled to hold a market. Therefore two leagues, or six and two third miles, were reckoned to be the maximum distance of a one-day sheep drive.
Since there was no other market within that distance, King Henry III (1242-1247) granted Romford permission to hold one every Wednesday as an outlet for the Hornchurch leather trade. The market was established in 1247. That six and two third mile marker remains the minimum distance between markets. It is the legal bedrock on which Romford has successfully fought off the setting up of other markets nearby.
There has been a church on the Romford marketplace since 1410. The earliest church, or rather chapel of Romford, was in what is still known as the Oldchurch area and was first mentioned in 1177. Built near the River Rom then called Mercke-dych, it became too ruinous to use towards the end of the 14th century and the new church was built.
The present Anglican church was built in 1849-50 on the site of the 15th century building. It was dedicated to the Blessed Virgin Mary and St Edward the Confessor. The architect John Johnson, in the decorated style that is a type of Gothic architecture used in this country in the middle ages designed the church. It is built mainly of Kentish Rag with Bath dressings. Some of the memorials are from the earlier church of 1410 and were transferred to the new Anglican building in 1849-50.
The church of 1410 was built on the site of the present Anglican church. It was consecrated by the Bishop of St Davids, March 23rd 1410, dedicated to the Virgin Mary and St Edward the Confessor, it consisted of a chancel, nave and North Aisle, and was larger than the old Church by 28ft in length and 14ft in width. It had a brick tower with five bells, (8 by 1800), and later there was a gallery at the west end, for the charity children. Time Line (to the reformation)
1005 St Edward born
1042 St Edward acclaimed King
1066 Death of King Edward the Confessor
1161 St Edward canonized
1177 First Chapel in the present Oldchurch area, dedicated to St Andrew
1247 Market Place charter granted by Henry III
1391 William of Wykeham buys the Hornchurch Priory and gifts it to New College Oxford (New College remains the patron of the Anglican parish)
1410 The Chapel of St Edward the Confessor consecrated on the site of the present church
1465 Havering becomes a Royal Liberty
1480 Chantry House for priests purchased, later Church House
1548 Chantry House sold
1552 1st Church Clock installed
Catholic Curates of the Chapel of St Edward the Confessor
1410 Robert Whittemore
1412 J(ohn)
1413 Robert Hay(n)ton
1422 John Wetwood
1452 Richard Weston
1460 John Neutre
1464 Nicholas Langston
1465 Richard (Weston)
1474 Thomas
1481 John Wylowby
1487 Nicholas Fynne
1488 John Abyngdon
1489 Robert Brampton
1490 John
1492 Edmund Fuller
1494 Stephen Longe
?
1530 Richard Woodbury
1550 Robert Bracher
1552 Robert Swynnerton
(The Reformation)
The church history beyond 1552 can be found on the website for St Edward the Confessor Anglican church here