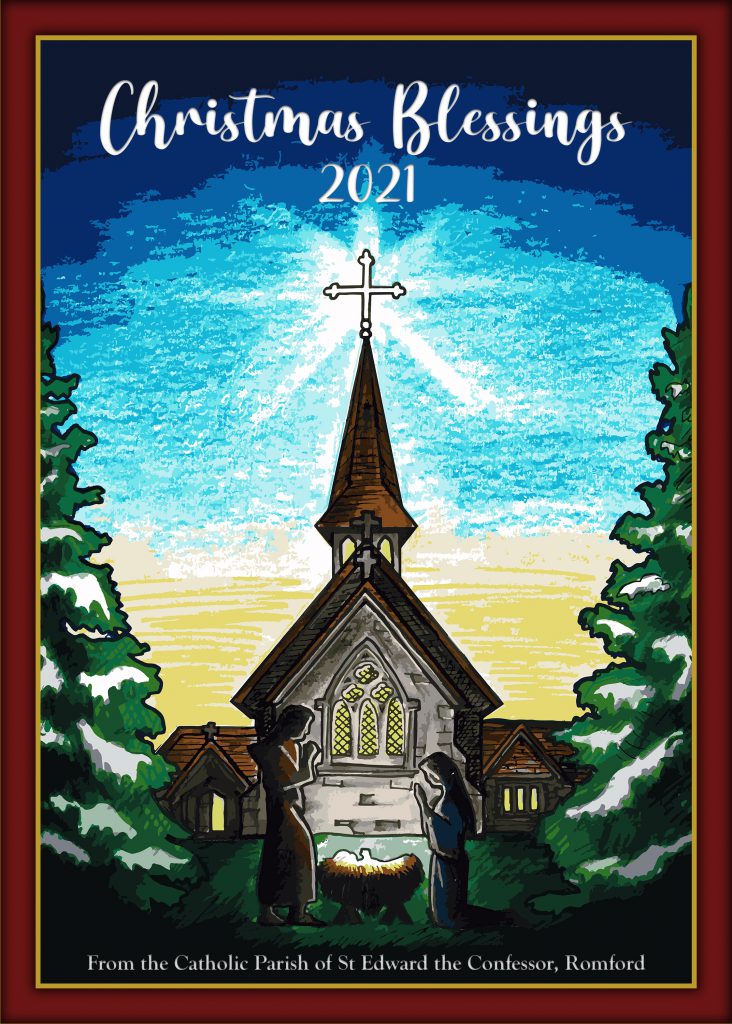 We are looking forward to peaceful, blessed, hope-filled and grace-filled Christmas celebrations, and we warmly welcome everyone to our Christmas Masses.
In preparation for Christmas, click here to download the parish Advent leaflet here. It contains all the information about Advent 2021, including a reflection from Fr Dominic, opportunities for charitable giving, Reconciliation services and local Carol Concerts
CHRISTMAS MASSES 2021
Mindful that there may be changes in Government guidance, please do check back here regularly for updates. There is no need to book places for Christmas Masses; however there will be other Covid safety measures in place – details below.
For those unable to attend Mass in church, you will find the Christmas Eve 10pm Mass and the Christmas Day 9.30am Mass on the parish livestream – https://stream.seccomgroup.com/channel/st-edward
The Christmas Mass Times are:
Christmas Eve Friday 24th December
5.00pm Mass especially for young children (Primary School age) and families.
7.00pm Mass for all – an additional Mass for Christmas Eve
For these Masses younger children are especially invited to come dressed as shepherds or angels
10.00pm (9.30pm Carols) Mass for all, in the beautiful stillness of Christmas Eve
Christmas Day Saturday 25th December
9.30am Mass for all in the radiant joy of Christmas morning
11.30am Mass for all in the radiant joy of Christmas morning
To help keep everyone Covid-safe we ask:
that you do not come to church if you have any Covid symptoms
that face coverings are worn while you are inside the church, unless you are exempt
that you complete a track and trace form, or sign in on the app, when entering the church
We will play our part by ensuring:
windows are open, so the church is ventilated
sanitiser is available at the doors of the church
the provision of additional Masses on Christmas Eve
you can pick up a small laminated card indicating you would prefer for someone not to sit directly next to you
people are not permitted to stand, once all the seating is taken
arrangements for Communion minimise contact in the aisles of the church
"Gifts under the tree" – during the whole of Advent and at Christmas
The main Christmas tree will go up in the week before Christmas, but this year we will have a tiny tree to get us under way, and encourage gifts of toys, chocolate and toiletries throughout Advent. This will mean we can get them to families who we know are in need, including those at the women's refuge, and they will have them before Christmas Day.
Items given on Christmas Eve and Christmas Day are still very welcome, of course, and these will be given where they are most needed in the New Year.
Please do not wrap gifts but simply leave them unwrapped, or in gift bags.