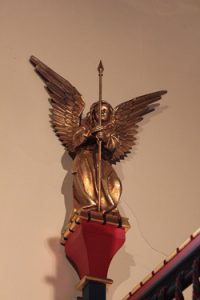 Weekend Mass Times
Saturday: 6.30 pm
Sunday: 9.30 am, 11.30 am
Weekday Mass Times
12noon (Mon, Tues, Weds & Fri)
Please check the latest newsletter for weekday Mass times (they do vary depending on other commitments placed on the Parish Priest). If the Parish Priest is unavailable for a weekday Mass, a service of the Eucharist is held instead. A Eucharistic Service is also held at 8.30am on each Thursday.
Mass times for Parishes nearby can be found via the Links page of this website.
Holy Days of Obligation.
In the Catholic Church, Holy Days of Obligation or Holidays of Obligation, less commonly called Feasts of Precept, are the days on which, as canon 1247 of the Code of Canon Law states,
"On Sundays and other holy days of obligation, the faithful are obliged to participate in the Mass. Moreover they are to abstain from those works and affairs which hinder the worship to be rendered to God, the joy proper to the Lord's day, or the suitable relaxation of mind and body. "
From the 1st Sunday of Advent 2006 the Holy days of Obligations for England and Wales changed. They are:
All Saints (1 November)
Assumption of the Blessed Virgin Mary (15 August)
St Peter & St Paul (29 June)
Birth of the Lord (25 December)
Every Sunday
The following Holy Days of Obligation have been transferred to the nearest Sunday:
Epiphany of the Lord
Ascension of the Lord
Body and Blood of the Lord
Mass times on Holy Days of Obligation are in the school at 9.30am (open to all parishioners) during term time, and in the church at 12noon.
"Since Christ Himself has said, "This is my Body" who shall dare to doubt it is His Body?"
St Cyril of Jerusalem