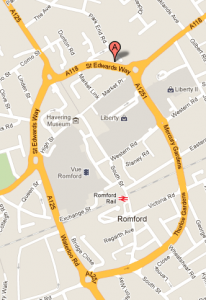 Our Address
The Church
Located on the corner of Church Lane and Park End Road and can be approached by car in two directions on the A118, via the A125 or A1251 (For a detailed Google map please click the map icon on the right.).
The Office
Located in the Presbytery. The Office hours are from 9am to 1.30 pm Monday, Wednesday and Friday.
Where can you park?
Parking on Sunday mornings is available in the roads adjacent to the church on Church Lane and in the Church car park as well as the Council car park opposite the church on Park End Road (currently this car park is free on a Sunday, but please double check signs when you park). There are also parking meters along Park End Road.
Parking during the week is available in the Church Car Park for those attending church services and activities in the Parish Hall.