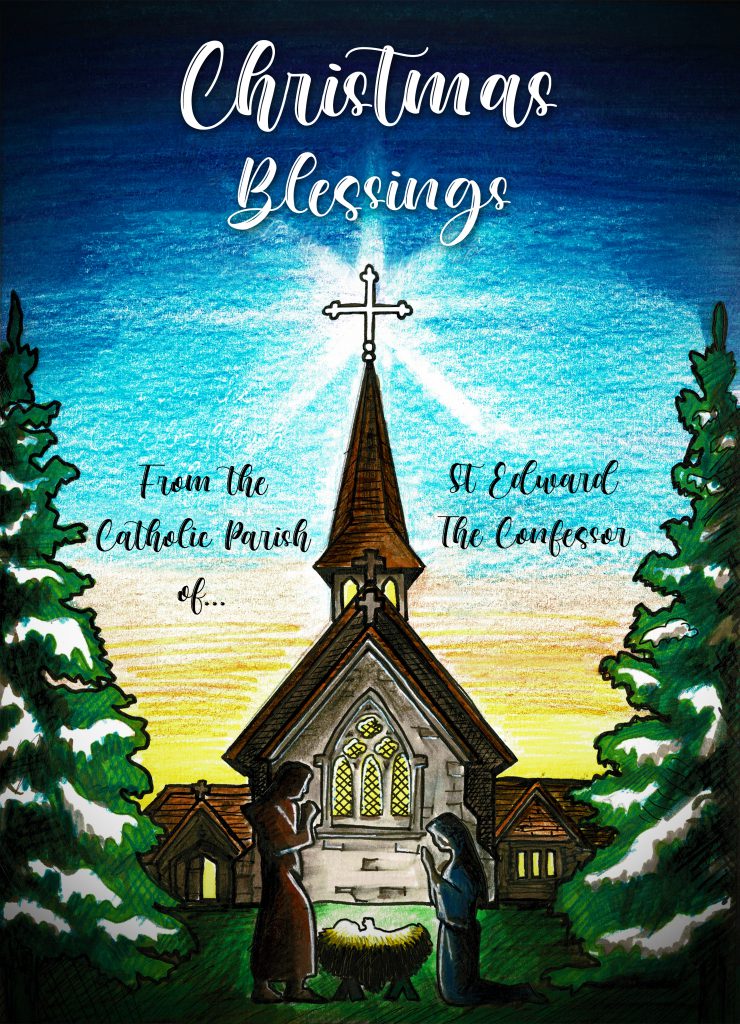 We will be offering additional Christmas Masses, and we hope there is something for everyone. Covid restrictions limit numbers in church, and all the usual Covid safety measures apply – for more information have a look at our Covid-19 Updates page.
We look forward to celebrating Christmas in a way which is peaceful, hopeful and joyful – after an unusual and very difficult year this is a precious moment to rediscover the wonder of Christmas, and the eternal truth that Christ is born for us. Where life is gritty and tough, it is also good and necessary to remember that Christ was born in a stable; He completely understands the grit and mess of life just now.
Everyone is welcome, but this year places at Christmas Masses must be booked in advance, to ensure that we can safely seat people, following Covid-19 guidelines. Bookings are open from Saturday 28th November, and the booking details are below. This page will be updated to indicate when a Mass is fully booked. Two of the Masses will be Livestreamed so as to help anyone unable to attend in person, especially those who are shielding, vulnerable, or isolating. The Livestream details will be available on this page, with direct links to our YouTube channel.
Christmas Mass times are:
Christmas Eve, Thursday 24th December
2.30pm Mass for those who are more frail, or seeking a quieter church. For this Mass we have sent invitations to – and will give priority to – those who are on the mailing list for newsletters, those who are housebound, and those who are contacted each week by the SVP, or as members of the Golden Club. If you know a parishioner for whom this Mass would be suitable, please do get in touch with us
5.00pm Mass for families with young children
7.00pm Mass for families with young children
10.00pm Mass for all
Christmas Day, Friday 25th December
9.30am Mass for all
11.30am Mass for all
To book a place for Mass, email romford@dioceseofbrentwood.org from Saturday 28th November. Your email will be timed, so please do not try to book early! If you cannot use email, then telephone 01708 740308. It will be an enormous help to us if, on this occasion, those who can use email do so, rather than phoning. We need the following information:
Your name
The number of people (adults and children) in your family who will be attending Mass (this can include grandparents, etc., but must be from the households within your "Christmas Bubble")
The Mass you would like to attend
GDPR: Your data will be kept securely, and will not be used for any other purpose, except to contact you about Christmas Masses. If you do not already receive the weekly newsletter, and would like us to use your email to send it in future, please let us know when you book the Christmas Mass. If you do not wish us to do this, your email will be deleted from our system after the Christmas Masses, in accordance with GDPR regulations.
Places will be allocated first come, first served. If you book in the first few days then we will email you a response on or soon after Friday 4th December. For those who book later in December we will respond within a day or two. If the Mass you choose is fully booked, we will suggest an alternative.