Parish Open Day –
Thank you to all groups and leaders who made today a success. 33 parish groups took part and the day was well attended by parishioners.

Restructuring and Renewal
The Bishop has published details of the first stage of the changes which will take place in our diocese. These are put forward for your comments and suggestions. It is hoped that parishioners across the diocese will respond to this.
Please visit dioceseofbrentwood.net/news (or click on the link in the next article) or pick up a copy of the booklet 'Working together to evangelise our diocese' which you will find at the back of the church. Please make sure you return the booklet once you have read it so that others are able to read it too, as we have few copies.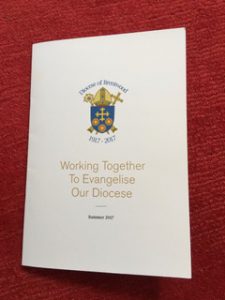 The next important stage of the Stewards of the Gospel discernment process is upon us!
Important changes will be taking place now and over the next few years in our parish and diocese.
On Monday 7th August a document setting out in draft a vision and strategy to take our diocese forward will be published at
http://www.dioceseofbrentwood.net/news/
We will also be getting hard copies of the document to share and read so that we can pray about the contents and discuss them before responding to it.
We will hold an open parish meeting in September/ October time where the diocesan director for the Stewardship process, Steven Webb, will join us and respond to your questions. Watch this space and look out in the parish newsletter for the date of the meeting.
Currently we have around 35 different groups working within our parish and we would like to celebrate all the hard work they do and the part they play in making our community so rich and vibrant. To this end, we are holding a Parish Open Day on      Sunday 17th September. The event will take place in the parish hall, beginning after the 9.30 Mass, and continue through the day, finishing at 2pm. Come along on the day with family and friends. Refreshments will be served by our youth stewards.
Please click on this link to read a beautiful poem by 10 year old Lucy Lucy Bacon
Diocesan Pilgrimage
St Edward's parishioners joined the 3,000 pilgrims last Saturday 22nd July at the shrine of Our Lady of Walsingham, where we celebrated the centenary of the diocese. Bishop Alan dedicated the diocese to the Blessed Virgin Mary, and said Mass in the shadow of the Abbey ruins after the pilgrims had walked the Holy Mile from the Slipper Chapel.
It was a wonderful day and mercifully didn't rain until Mass had ended and we made our way back to the coaches.